Fishing at Atterbury-Muscatatuck
Anglers, you can help us improve the fishing at Atterbury-Muscatatuck by reporting what fish you catch even if you release them. Please complete the survey accurately during the check-out process even if you only do catch and release. This information is used to continue improving the program.
Who can fish on Camp Atterbury?
Fishing on Camp Atterbury is restricted to several Authorized User customer classes and their guests. Guests are not allowed to fish by themselves, and must be accompanied by their Authorized User at all times. Authorized Users are responsible for their guest's violations, and both anglers will receive the same penalty for any policy violations.
Authorized Users:
-- Current Military Personnel: Required to have a valid military ID (CAC)
-- Retired Military: Required to have a military retiree card
-- INNG Employees/Full-time Contractors: Required to have an AGO state ID card
-- Command Directed Personnel: Required to be on the current year's command directed list
While not as popular as hunting, there are multiple opportunities to fish at Camp Atterbury. Fishing is available year round at Camp Atterbury in areas not closed due to training. Surface water on Camp Atterbury consists of numerous streams and small, seasonal ponds located throughout the property. There are several small wildlife ponds, Duck Pond and Puff Lake, that contain water year round. The installation lies within the watershed of the East Fork of the White River. Drainage from the installation primarily flows eastward into the Driftwood River, which is a tributary of the White River.
Fishing is also available off the installation at several nearby bodies of water including Stonearch and Pisgah Lakes in the Atterbury Fish and Wildlife Area, Lake Cottonwood located in Johnson County Park, and the Driftwood Public Fishing Area near Edinburgh. Camp Atterbury iSportsman permits are not required for these locations as they are not a part of our program.
While fishing at Camp Atterbury, all applicable state regulations apply including bag and size limits. For a complete list of Indiana rules and regulations, check out the Indiana Fishing Regulations Guide: HERE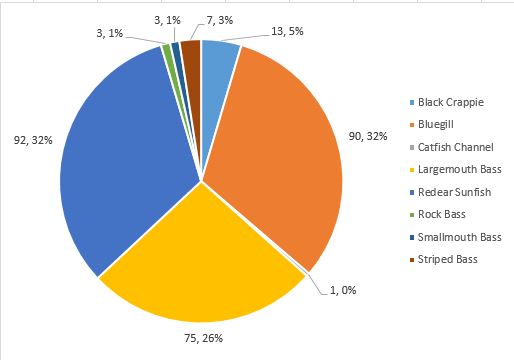 2022/2023 Season Harvest Recap
During the 2022/2023 season, anglers recorded a total of 284 fish caught in the waters of Camp Atterbury. The chart to the right shows a breakdown on the species caught and their percentage of our total harvest. Of those fish 74 were kept by anglers with the rest being released back into the water.
Types of Fish at Camp Atterbury
This fish population at Camp Atterbury has been surveyed multiple times. In 1992, IDNR conducted a fisheries survey of Puff Lake. The survey collected eight species, as well as naturally hybridized sunfish. Largemouth bass, bullhead, bluegills, and other sunfish offer excellent fishing opportunities. Duck Pond was also surveyed in 1992 with bluegills being the most abundant panfish collected. Along with hybrid sunfish and redear sunfish, they offer anglers a good opportunity to catch panfish.
Use of Boats
Boats, to include canoes and kayaks, with electric trolling motors may be used on all lakes for the purpose of fisihing. Outboard combustion motors are not authorized on the Installation. Boats used on waters on the installation must be equipped with at least one life preserver for each person aboard. Children under 12 and non-swimmers aboard must wear life preservers at all times. A gravel boat launch area is located on the south of Puff Lake. Duck Pond does not have a boat launch, and all boats must be carried to the shore.
Controlling the Spread of Aquatic Invasives
Aquatic invasive species are plants, animals, and other organisms that are not native to Indiana waters and have the potential to cause harm. These species are concerning because they outcompete native species, threaten human health, change and degrade the ecosystem, and/or require intense maintenance and monitoring. Any suspected invasive species on the Installation should be reported to the Environmental Branch. You can help stop the spread of aquatic invasives by following a few simple steps:
-- CLEAN off plants, animals, and mud from gear and equipment including waders, footwear, ropes, anchors, bait traps, dip nets, downrigger cables, fishing lines, and field gear before leaving water access. Scrub off any visible material on footwear with a stiff brush
-- DRAIN water from watercraft, motor, bilge, bladder tanks, livewell and portable bait containers before leaving water access. Replace with spring or dechlorinated tap water when keeping live bait before leaving water access.
-- DRY everything five days or more, unless otherwise required by local or state laws, when moving between waters to kill small species not easily seen OR wipe with a towel before reuse.
-- DISPOSE of unwanted bait, fish parts, and packing materials, in the trash; do not dump them in the water or on land.